Memory Diag By Rocky Sand Studio Ltd.(内存管理)
轻量美观的内存管理app,限免中。还带通知中心小插件,推荐!
从Mac App Store 下载 Memory Diag
Memory Monitor is an AMAZING memory cleaner and optimizer with several great AWARDS and over 2 MILLION downloads worldwide!
Featured by Apple in "GET STUFF DONE" and "INVALUABLE UTILITY 2014"
Customer Reviews on the Mac App Store
"Easy cleaning memory and it actually works" – by just-jenny

"Works like a charm, cleans nicely" – by heatwebb000

"It's simple and it works great" – by Jsa001

Macworld – "The best feature is its ability to quickly optimize your RAM usage."

TUAW – "Tells you what things are draining your computer's memory."

lifehacker – "Does a good job of keeping you informed and looking good."
Memory Monitor helps you to keep your systems memory clean by monitoring and optimizing the memory usage. Quickly access detailed memory information and diagnosis from your menu bar and clean your memory with a simple click.
Main Features:
– Quick memory cleaning and optimization
– Easily accessible memory statistics
– Show/hide app icon in Dock
– Dynamic menu bar icon displays current memory usage
– Memory pressure meter and notifications
– List of apps with significant memory usage
– Customizable themes
– Installed RAM memory modules
– Detailed memory information
– Smart memory diagnosis
http://www.rockysandstudio.com
f.lux By Flux Software LLC(自动色温调节)
感谢评论推荐。f.lux 最初是iOS上的越狱插件,如今已有各种平台的版本。Mac下最新版支持Yosemite系统夜间自动切换暗色主题。简单实用。
Phone App(菜单栏快捷打电话)
这个最近在限免,和通知栏快捷电话的Keypad互补,大家各取所需。
从Mac App Store 下载 Phone App
Call from your Mac via your iPhone with the phone still in your pocket. Just type any phone number you want to call and press enter, or start typing one of your contacts name and it will instant search and show top 3 match.
Runs directly from your toolbar with a less-is-more interface. Phone App makes calling via FaceTime easier than ever before.
If you like the app there is some goodies inside for in app purchase including dark theme, hot key activation hide dock icon and start at login.
Requirements:
OSX 10.10 or newer
iOS 8.1 or newer on your iPhone
Facetime with the same iCloud account on both devices
CheatSheet By Media Atelier(一键查看所有快捷键)
只用长按Command键就可以查看系统和所有当前运行应用的快捷键。简直神器!
另说iOS上也有一个叫CheetSheet的,在通知栏内显示简单记事,也强烈推荐。
Irradiate By Zibity(去除iTunes Radio中的广告)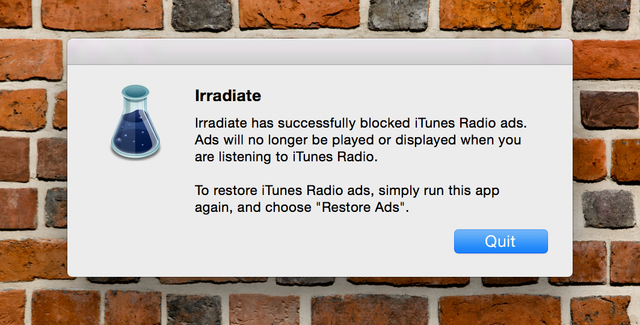 原理其实是屏蔽了广告服务器的地址,通过修改hosts一样能实现。不过这个小工具图标不错,留着啦。
Block ads in iTunes Radio on Mac and iOS for free.
Hocus Focus By Nial Giacomelli(隐藏其它窗口而聚焦一个)
非活动窗口会自动隐藏哦!免费轻量的小软件,专注工作必备。
配合Manico一起用体验好棒!
Hocus Focus – A Mac menu bar utility that hides your inactive windows
Clean By Vojto Rinik(定期清理桌面文件)
如果你的桌面也是像我一样,动不动就堆了一些杂七杂八的文件(照片啊,邮件附件啊,截图啊……),总想着日后再理却一直懒得理它,那就让这个强迫症小软件帮你一下吧!
一键清理,桌面文件自动按月份归档到指定文件夹。
Clean your desktop with one click or clean automatically every day.
Features:
Clean desktop manually
Start agent and just enjoy nice, cleaned desktop
Group files into folders by month, or by day
Setup how often you want your desktop cleaned (every day or every week)
Wallpaper in screenshot: http://is.gd/aurora
从Mac App Store下载 Clean
PhoneExpander By Nice Mohawk Limited(清理iPhone垃圾)
新出的iPhone空间整理app,比PhoneClean好看又好用。现在beta版免费测试中。推荐。
PhoneExpander – Quickly free up storage for iOS
PhoneExpander is an app that runs on your Mac, just like iTunes. You connect your phone and then are able to deep clean your phone, doing all sorts of things which you haven't been able to do before. It takes about ten minutes to run, and you can use just one or all of the different cleaning tools. It's designed to be simple enough for your parents to use, but useful even for power users.
本系列文章: